Summer vacation often means spending a week enjoying the sand and surf at the beach. While it may seem like "a day at the beach" is all sunshine and happiness, there are some hidden dangers to avoid. When planning your summer trip to the shore, make sure you consider beach safety as part of your preparation, especially if you aren't familiar with the beach you're traveling to.
Here's our list of beach safety tips: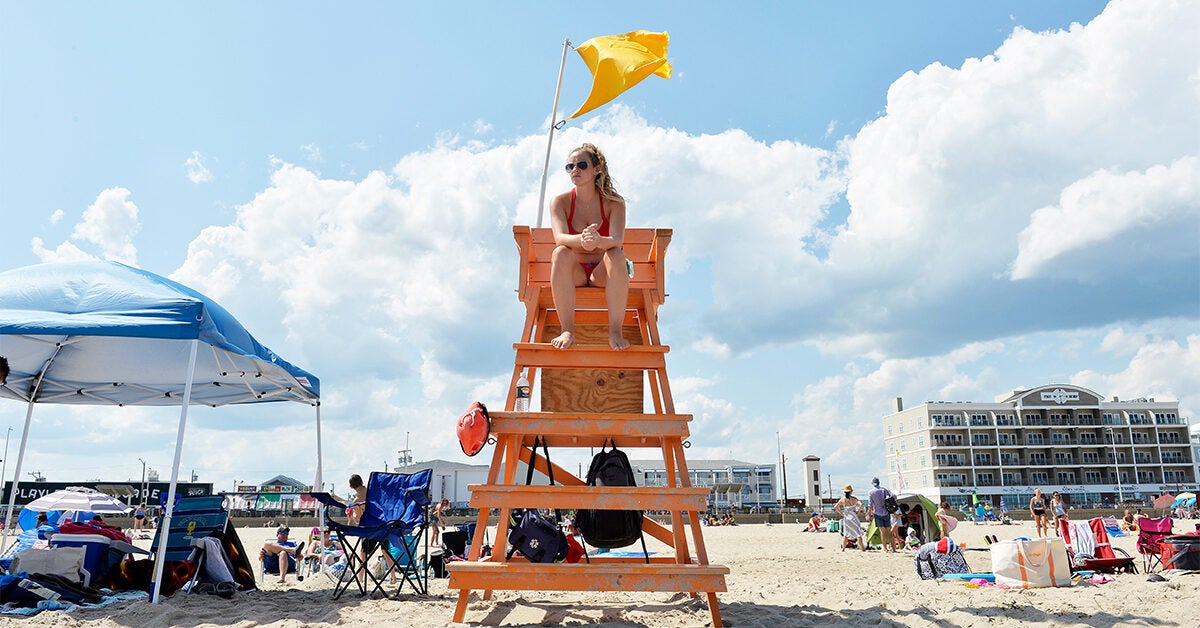 Slather on the sunscreen – Nothing ruins a beach trip faster than a sunburn on day one. Make sure you get to enjoy the sun every day of your vacation by coating yourself and the kids in a generous coating of high SPF sunblock. And reapply after lunch – especially if you've been swimming.
Protect your feet – A long walk on the beach is a great way to spend a dreamy romantic evening. But rough and rocky coastline can wreak havoc on your bare feet. An easy beach safety solution is to pack a pair of reef shoes for everyone in order to prevent cuts and scrapes from broken coral, shattered glass, unexpected tide pools and other sand hazards.
Swimming safety – Spending the day in the surf is a real blast! From boogie boarding to snorkeling, there are so many ways to have fun in the ocean. But the open water requires a certain respect. One of the most important beach safety tips is to encourage everyone in your group to swim with caution. Flotation devices are no substitute for knowing how to swim – don't get in the ocean without lessons.

Also read: 
• Save Big with an Off-Season Beach Week
• Top U.S. Beaches for Your Next Vacation
• Best Places to Rent a Beach House in the U.S.

Beach security – Are you wondering if your strip of sand will include a lifeguard? Before you travel, look into whether or not your beach trip includes the reassurance of a certified lifeguard. The Beach Patrol is trained to watch for and warn beachgoers of riptides and other dangerous swimming conditions as well as jellyfish and other stinging creatures.
Watch the weather – When you book your trip months in advance, you may have the unlucky timing to arrive on the same day as a weather disaster. With rain comes storm water runoff that often leads to contaminated water at the beach that you'll want to avoid. Also, keep an eye out for high surf advisories.
Worst-case scenario – Although occurrences are uncommon, you don't want to be the one who knows what it's like to deal with a jellyfish or stingray attack. Pay attention to local news reports and ask surfers and sailors for details on what's waiting for you in the water. No one wants to consider that an accident might happen to them, but buying travel insurance is a smart move just in case. Under certain circumstances, travel insurance can provide reimbursement for medical assistance or even evacuation if your beach vacation takes a turn for the worst.

Also read: 7 Travel Safety Tips that Could Help Protect Your Trip from Disaster
Drink the right liquids – Keep everyone hydrated with plenty of water and avoid alcohol. In addition to becoming dangerously dehydrated, drinking booze at the beach can impair your judgement just when you need it most.
Look out below – Many beaches that cater to tourists feature cliffs with stunning vistas. These are beautiful spots to look out from, but they can be dangerous. One wrong step could mean a serious fall, and falling rock means being below them can be even more hazardous. Lifeguards warn that "even just a softball-sized rock can be devastating falling from a 50-foot cliff."
Wildlife warning – While part of the allure of ocean swimming is the chance to see aquatic animals in the wild, remember to keep your distance. Watching a sea turtle feeding is a bucket list moment – don't ruin it by trying to touch its shell or disturb its routine.  Purple or blue flags indicate jellyfish or other dangerous wildlife. If you are stung, visit a lifeguard or seek medical help immediately.
Riptides are real – Hidden dangers like rough surf, undertow and rip currents can quickly turn an afternoon paddle into a serious incident. Take a few minutes to watch a video of a riptide, learn to spot the signs and refresh the water safety skills of any weak swimmers in your group.